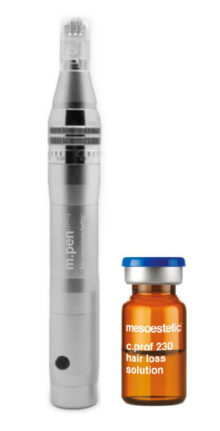 Hair loss is a common problem affecting men and women, characterized by an increased hair weakness leading to a loss of volume and quality of hair.
Anti- hair loss treatment targets male and female androgenetic alopecia, slowing down it's progression.
Stimulation of the hair follicle and increased blood flow help strengthen the root and prevent hair falling thus reducing hair loss.
Powerful hair follicle protector and stimulator.
Slow capillary ageing.
Revitalising and strengthening hair.
Improves micro circulation and nutrient supply of the follicle.
Price List
Single session £150
Course of 6 treatments + home care solution £1,000