We are proud to offer the fabulous Volume Eyelash Extensions in our beautiful treatment room.
Eyelash extensions have been around for over 10 years but lately they have become particularly high in demand. The main reason is that materials and techniques have been greatly improved and we can now create beautiful sets of eyelash extensions that look natural and do not cause any damage to the natural lashes.
There are two main types of eyelash extensions available, Classic and Volume. We specialise in Volume lashes and do not offer Classic eyelash extensions as we believe that this technique no longer offers the high standard results.
Volume lashes are an extremely advanced technique where multiple extensions are applied on to the natural lash. However, these extensions are different from ones used for the Classic technique, extremely fine, soft, and absolutely weightless.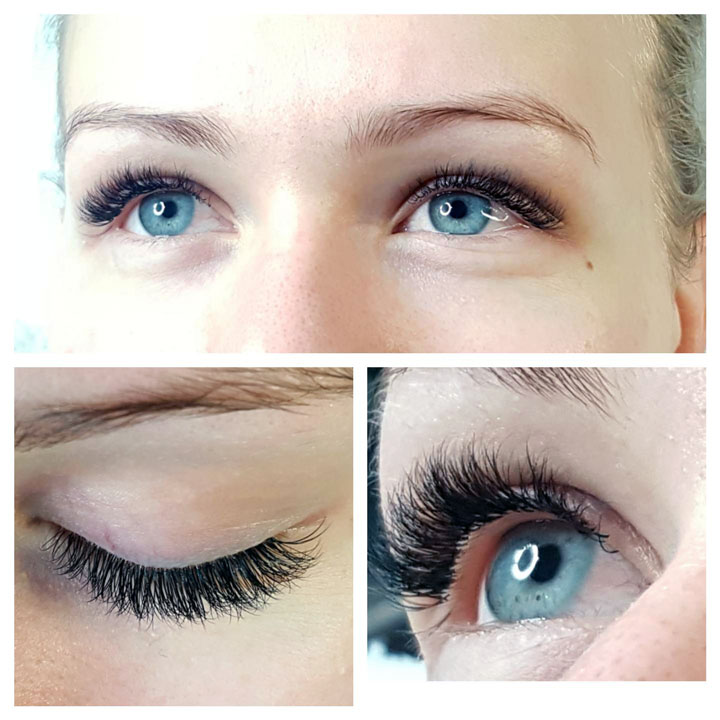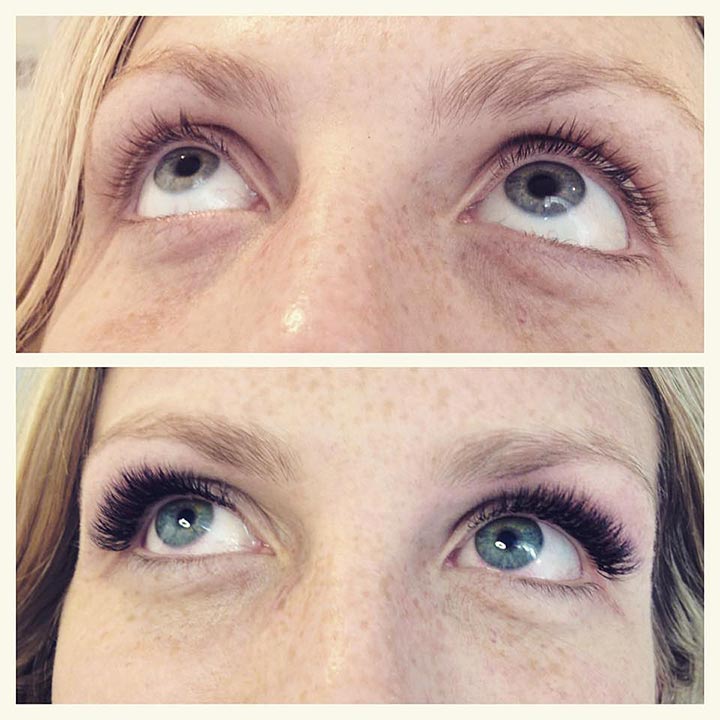 This customised technique was created as a result of years of experience in the lashing business and listening to client's suggestions. Clients were asking for noticeable volume and fluffiness but not uniform thickness like false lashes.
Our Volume Lashes allow creating customised look for each client and occasion, even for clients with very fine and sparse lashes. Whether for the everyday look or party look, extremely soft and fine lashes are "layered" and fanned out on to the natural lashes, 2 – 6 on each natural lash.
Natural lashes are individually isolated before the fan application. Each extension has a different length and curl, just like our natural lashes. What makes our Volume Lashes different from most other volume lash techniques is that it creates that beautiful fluffy and velvety look instead of the thick uniformed effect like false lashes.
Beautiful volume yet very soft and long wearing.
Please note that a glue test is required at least 24 hours before the treatment.
How long will Volume Lashes last?
That really depends on two things – how well you follow the aftercare instructions and your own natural eyelash growth cycle, usually around 60 – 90 days. Since your eyelash extensions are attached to the natural lashes, they will shed whenever the natural lash they are attached to reaches the end of its growth cycle. Infills are typically needed once every two or three weeks to replace the extensions that have shed and to keep your extended lashes looking full. To qualify for an infill procedure, client must have at least 50% of their extensions.
At the infill, lashes will be cleaned and any, that are twisted, removed and new extensions applied to regain the fullness of the new set.
Please note!
When coming for an infill procedure, clients' lashes MUST be clean. No mascara or makeup on lashes, otherwise a full removal may be required as it is impossible to clean such extensions. For new customers glue test will be required 48 hours before the treatment.
Extend the life of your eyelash extensions with the right aftercare:
Do not get your lashes wet for 24h after the treatment.
Use Eyelash Extensions shampoo to cleanse your lashes. If you are wearing eye makeup, like eyeliner or eye shadow, this must be done every day. If your lashes are not cleansed, the oils from the skin and makeup will build up near the lash root and can affect the growth of new lashes.
Don't use regular, over-the-counter mascaras, the oils in mascara will soften the glue and cause lashes to stick together and fall out. We recommend using Eyelash Extension Mascara specially formulated for eyelash extensions. This mascara can be removed with warm water.
Don't use manual lash curlers. This will break both extensions and natural lashes!
Inform your beautician if receiving facials, the Eyelash area should be avoided during these procedures.
Don't excessively rub lashes or eyes while washing face. If you have any more questions, please call or email us and we will try our best to answer them.
Do not use overnight face masks, excess oils in the product will cause the lashes stick together.
Price List
VOLUME LOOK LASHES 1H 45 MINS  £105
This very advanced eyelash extension technique allows to work even with very fine and sparse lashes to achieve beautiful fullness. Extremely fine and soft lashes are "layered" on to the natural lashes, 2-3 per natural lash, different length and curls.
VOLUME PLUS LASHES 2,5 H     £130
Recommended for those who are looking for significant volume without a "false lash" look. 3-5 extremely fine and soft extensions are applied on each natural eyelash. Beautiful volume yet very soft and long wearing.
NATURAL LOOK LASHES 1 H 15 MINS  £85
Fewer lashes are applied and can be done to accentuate the outer corners and blended in towards the middle of the eye or applied along the whole lash line for very subtle look. Suitable for dark or tinted lashes.
VOLUME LOOK IN-FILLS (2 WEEKS)   £70
VOLUME LOOK PLUS IN-FILLS (2 WEEKS) £85
EYELASH EXTENSION REMOVAL ONLY £30
We do not charge for removal of our work before the new set.
Occasionally we can infill eyelash extensions done elsewhere but we would need to see and assess them before the treatment. If they are done nicely and in good condition, no problem! Same pricing applies.